Happy Boxing Day! We've all made it through another Christmas, and now it's time to let our hair down a little. With a week and a half left until the kids head back to school, you may be wondering what to do in Vancouver now that the holiday frenzy has died down. With most of winter break left in front of us, we have four suggestions for kid-friendly Vancouver fun to keep the whole family happy.
What to do in Vancouver Over Winter Break
1. Canyon Lights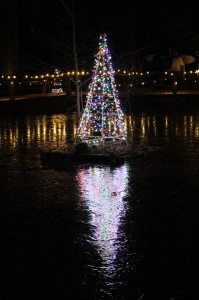 Capilano Suspension Bridge's Canyon Lights event runs from 4:00 – 9:00pm nightly until January 4, 2014. If you visit you'll find the world's tallest living Christmas tree, glass-blowing workshops, a children's scavenger hunt, CLIFFWALK and a whole lot more. And of course, everything is covered in thousands and thousands of glittering lights. This is a chance to celebrate the season in a spectacular natural setting. Plus, one of the best parts is that if you add Canyon Lights to your list of what to do in Vancouver over winter break, you can visit Capilano Suspension Bridge for free for a full year, with their BC residents annual pass program. It helps offset the admission price, which is $31.95 for adults and $12 for kids aged six to twelve (kids under six are free).
www.capbridge.com | Twitter | Facebook
3735 Capilano Road, North Vancouver
2. VanDusen Festival of Lights
If you've been spending too much time indoors lately, what could be better than getting out for a walk around a beautifully-lit garden? The Festival of Lights at VanDusen Gardens is open from 4:30 to 9:00pm each evening until January 4, 2014. This kid-friendly Vancouver event promises a magical experience, as the garden is filled with 1.4 million twinkling lights. You'll find dancing lights every half hour, shadow puppet shows, the Make-a-Wish candle grotto, food and a whole lot more. Adult admission is $14.25, kids aged three to twelve are $7.75 and kids under three are free. Or your whole family can get in for $32.50, making it a pretty affordable evening out.
vandusengarden.org | Facebook
5251 Oak Street, Vancouver
3. Christmas at Canada Place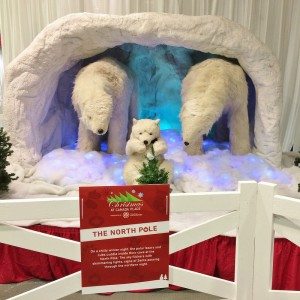 We've already filled you in on all the kid-friendly Vancouver fun at Christmas at Canada Place, but it really does bear repeating. This free event features a miniature train ride, skating and curling on synthetic ice, holiday crafts, beautifully decorated trees, the Woodward's Windows and more. It runs daily from 10:00am – 7:00pm until December 31, 2013, when it closes at 4:00pm for good. While minimum donations are required to participate in some things, like the train ride or to rent skates, the amount is fairly small at around two dollars per person. The donations are all going to support great local causes, so stock up on your twoonies before you add this event to your list of what to do in Vancouver over winter break.
christmas.canadaplace.ca | Twitter | Facebook
999 Canada Place, Vancouver
4. Illuminations at Heritage Christmas
Take a walk through an old-fashioned holiday season at Burnaby Village Museum this winter break. It's open from 12:00-9:00pm daily until January 3, 2014. The village is all decked out for the season featuring multi-coloured lights and gorgeous displays. There's also a menagerie of transformed eco-sculptures, including eagles playing instruments and bears wearing sweaters. Your kids can participate in crafts and a fun scavenger hunt, and the whole family will enjoy a ride on the gorgeous carousel and a hot beverage from the ice cream parlour. Plus, you'll be learning about local history while you're at it. One of the best parts is that gate admission is free, and a ride on the carousel is just $2.21 per person.
www.burnabyvillagemuseum.ca | Twitter | Facebook
6501 Deer Lake Avenue, Burnaby
Facebook Comments