Article by Sara Bartlett, sharing the scoop on teaching your kids about dog safety and bite prevention.
These days our dogs are as much a part of our families as any two-legged member. I, as I'm sure many of you agree, could not have imagined growing up without a dog in my life. As my career in the dog world grew, I was alarmed to learn that a large percentage of dog attacks are towards children. I became a member of Doggone Safe and have joined with others in the effort to educate children and parents on dog safety and bite prevention.
Bite Prevention Tips
Teaching your children the difference between safe and unsafe dogs can be a very important and life saving skill to learn, even if it is the family dog. Follow these steps for reducing the risk of a bite:
 Supervise children at all times when interacting with a dog, even the family dog.
Encourage your children not to approach any dog that does not belong to them
Teach your children to respect the dog's space. Do not: hug or kiss a dog, approach a dog while it is eating or sleeping, even the family dog.
Teach your children to "be a tree" if a dog is bothering them or frightening them, or a strange dog approaches.
Train your dog to enjoy the presence of children using positive methods and never allow rough play or chasing games between the child and dog.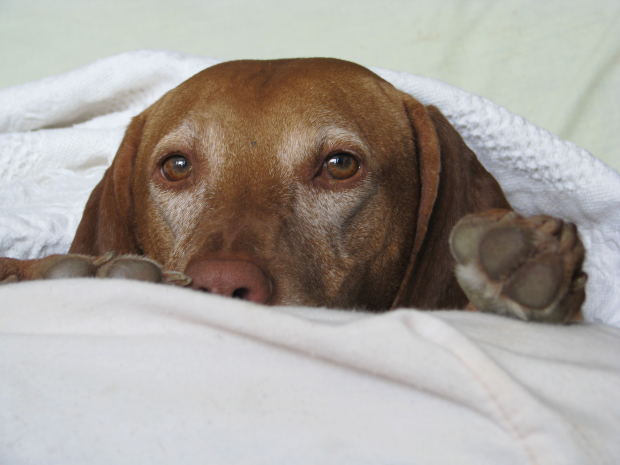 Signs a Dog is Safe
Learning the difference between safe and unsafe dogs to approach is the first step to greeting a dog. Watch for these signals in your own dog, and other dogs. Teach your children to identify them as well.
These signals indicate a safe dog that may be greeted once permission is given:
Panting/happy expression
Relaxed body position
Enthusiastic tail wag
Signs of a Dangerous Dog
Watch for these warning signals – they indicate a potentially dangerous dog that should not be greeted:
Tense body position/expression
Yawning
Closed mouth
Ears pinned back
Half-moon eye
Licking nose
Raised Tail
Head turned to the side
For a full list and photos of displacement and avoidance signals please see Doggone Safe at www.doggonesafe.com/Signs_of_Anxiety.
Teaching Dog Safety
Teach your children the following do's for interacting with a safe dog, once permission has been given from the handler and from the parent.
Be sure the dog sees you before coming close – if a dog is surprised by a sudden touch it may bite.
Extend hand in a fist first for dog to sniff – if the dog pulls away, is uninterested, or not sniffing and wagging, then have your child move away slowly to the side.
Pet dog on the side of the neck or on chest – this prevents the hands from coming over the dog's head.
Crouch sideways to greet small dogs or dogs that are lying down – this is less intimidating and prevents leaning over the dog.
Sara Bartlett is a Karen Pryor Academy Certified Training Partner, a member of Doggone Safe, a "Be A Tree" program presenter and owner of Sweet Pea & Me Dog Adventures and Care. They offer fun and safe dog adventures as well as dog coaching services. Catch up with her on Facebook and Twitter.
Facebook Comments